nyunga nyunga score Ebook
虫眼鏡マークをクリック(タップ)すると、画像を全体表示で見る事ができます
you can learn how to play nyunga nyunga with internet
about nyunga nyunga

nyunga nyunga is the musical instrument which Zimbabwean Shona people have played from long time before. in zimbabwe,people have played nyunga nyunga, sang story of daily affair,sometimes serious story,sometimes funny story. nyunga nyunga also called "munyonga". munyonga means shape of the keys of nyunga nyunga. no one knows nyunga nyunga(munyonga) have played from when.
generally, nyunga nyunga have 15keys, but "musekiwa chingodza" found out 16keys nyunga nyunga can play *mbira's ancient songs.
with this lecture, you can learn how to play 16keys nyunga nyunga.
*mbira: zimbabwean instrument which shona people played for praying ancestor spirits from long time before.
Musekiwa Chingodza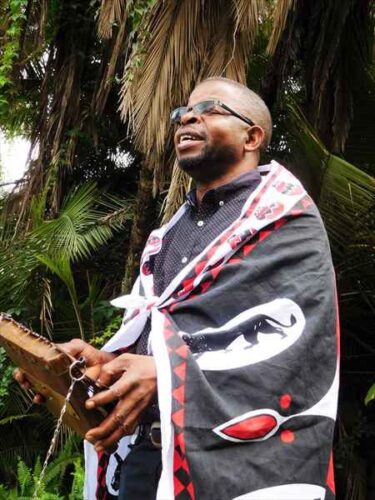 Musekiwa Chingodza was born into a family of great mbira players in Mwangara village, Murehwa, Zimbabwe, in 1970. He began playing mbira at the age of five and is self-taught. Through listening to other gwenyambira, or great mbira players, he developed a strong attachment to and love for mbira music. He says, "Our music is both medicine and food, as mbira has the power to heal and to provide for people. Mbira pleases both the living and the dead." In 1991 Musekiwa was a key member of the band Panjea and composed the hit song "Ganda" on Panjea's Zimbabwean album. For many years Musekiwa taught traditional music at Prince Edward School in Harare. He is an excellent singer, dancer and drummer and plays both mbira dzavadzimu and nyunga nyunga. Following up on his widely acclaimed CD with Jennifer Kyker, entitled "Tsunga," Musekiwa released his CD "VaChingodza Budai Pachena." His newest CD "Tomutenda Mambo," was released in 2011. Musekiwa is also an accomplished ngoma (drum) player in the Shona tradition, and he excels in playing hosho (gourd shakers), singing, and traditional dance. Musekiwa now visits the US regularly, teaching and performing, with visits sponsored by Kutsinhira Cultural Arts Center in Eugene, Oregon.
scale of the keys and name of the parts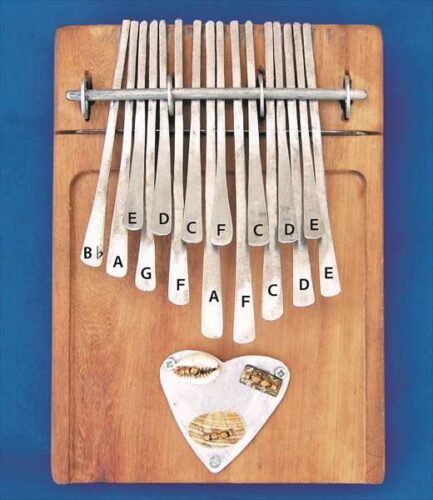 ↑ this is the scale of "F tuning 16keys nyunga nyunga". F tuning nyunga nyunga is the most popular nyunga nyunga in zimbabwe. F tuning nyunga nyunga can play with same tuning nyunga nyunga and "C tuning mbira".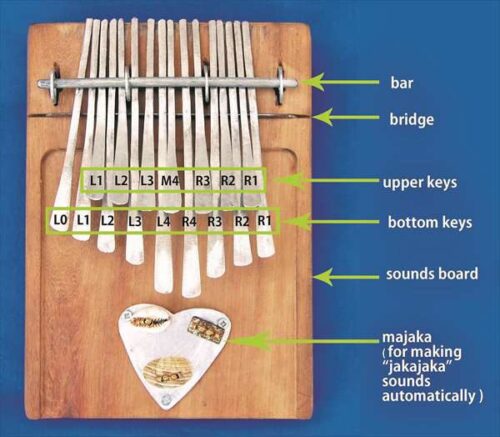 about the keys
L means left, R is right, M is middle,
upper keys have L1~L3, M4, R1~R3,
bottom keys have L0~L4, R1~R4.
let's start nyunga nyunga lesson (free)
this lesson is for Ftuning 16keys nyunga nyunga
1 go to this page
https://playmbira.com/limit-en/limiter.cgi
2 you can login with this information
username : trial
pass word : trial
3 you can learn how to play
Learn procedure(ebook)
1. after buy nyunga nyunga music score,
songs for listening will come to your email address (refer "download songs" in this page).
2. in few days,
username and password will come to your email address.
then,you can login to this page below,
you can start to learn how to play nyunga nyunga with ebook (refer "songs which you can learn" in this page)!
https://playmbira.com/limit-en/limiter.cgi
download songs
01. Nhemamusasa
02. Chamutengure
03. Chigwaya
04. Mukai Tiende
05. Taireva
06. Todzungaira
07. Manyatera
08. Manhanga
09. Shanda
instrument : nyunganyunga F tuning, mbira C tuning, hosho
play : musekiwa chingodza, sumi madzitateguru, tinashe chingodza
recording : big boy studio in zimbabwe
songs which you can learn (for Ftuning 16keys nyuga nyunga)
Nhemamusasa 3 parts
Chamutengure 3 parts
Mukai Tiende 2 parts
Todzungaira 2 parts
if you have question send message to
info@playmbira.com
-cover picture-
Erika Hayashi
—Copyright notation—
unauthorized copying,selling,hiring or rental directly or indirectly of all recording sounds is prohibited.
Tinotenda!
店舗運営責任者:前川 純亮
TEL:070-8309-6746
古物営業法の規定に基づく表示
1.前川 純亮 2.宮城県公安委員会 3.第221240001518号
【業者】
日本郵便、ヤマト運輸、佐川急便
【備考】
・配送会社はご指定できません。あらかじめご了承ください
・センター留め・局留めは対応しておりません。あらかじめご了承ください
【商品発送のタイミング】
・ご入金確認後、1~3営業日以内に発送いたします(土日祝日を除く)
お届けにかかる日数の目安は以下の通りとなります
諸般の事情により配送が遅延する事があります
発送後、1〜3日
お客様のご都合に合わせ、各種決済方法をお選びいただけます
当店の商品は万全を期しておりますが、初期不良品やご注文と異なる商品が届いた場合は商品到着後3日以内に当店までご連絡ください。送料・手数料ともに当店負担にてお取り替えをさせていただきます。事前のご連絡が無くお送りいただいた場合は、返品・不良品の交換対応が出来ませんので必ずご連絡ください。
・注文と異なる商品・初期不良の場合⇨送料・手数料当店負担
・お客様ご都合の場合⇨送料・手数料お客様負担
当店の商品は1点ものが多くあります。商品に破損や欠陥があった場合、同一商品と交換出来ない場合がございます。その場合、同等の商品と交換、またはご返金をもって対応させていただきますのでご了承ください。ご返金の場合、商品が当店に返送された後1週間以内に、振込みにてご返金、もしくはクレジット決済の取り消し処理をさせていただきます。